News 
>>  23 September 2020: For the first time the SYA has written an open letter together with 17 other young academies against cuts in the EU research budget! You can read the letter here. 
>>  22 September 2020: The SYA has its funding regulations. You can find it under further information or here!
>>   6 July 2020: Interview with our speaker Estefania Cuero on higgs.ch. Read the whole interview here!
>>  23 June 2020: The members of the Swiss Young Academy elected its executive board at the first constitutive meeting and, with Estefania Cuero, the first speaker.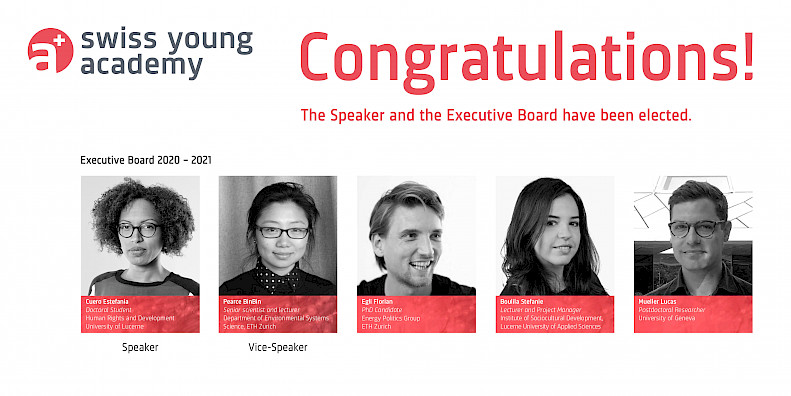 >> 13 May 2020: The first 29 members of the Swiss Young Academy have been elected!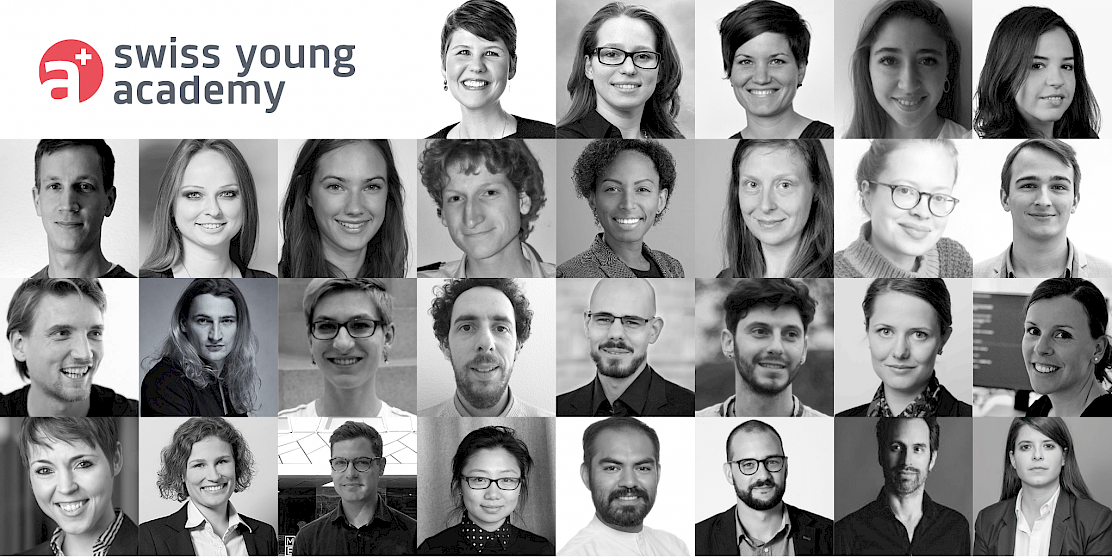 The Swiss Young Academy offers...
a networking platform focused on current issues and questions related to science policy

inter- and transdisciplinary collaboration on projects related to the thematic areas of focus set by the Academies and their associated institutions

mentoring and development programmes for young academics that strengthen their skills as well as their national and international networks

greater access to equal opportunities and a heightened awareness of issues related to society and its dialogue with science

individual support during the five years of membership, coupled with the overall benefits of joint projects for scholarship in Switzerland

its members to function as the Academy's contacts abroad while also representing the diversity of the scientific field in Switzerland
What can members expect, what effects they achieve with their membership and what support they receive - more about this from the Advisory Council in short videos.
About Us
Organisation
The Swiss Young Academy is composed of a general meeting with about 25 – 30 members, an executive board, an advisory council and an administrative office.
Range of Activities
The Swiss Young Academy engages in the following activities:
Initiates and carries out inter- and transdisciplinary projects with the support of the Academies and their associated institutions;
Initiates projects at the intersection of academic research and society that are relevant for the younger generation;
Initiates forward-thinking projects that foster creativity and innovation;
Promotes academic discourse as well as inter- and transdisciplinary collaboration;
Takes positions on developments in science policy, with a particular focus on young researchers' professional and social situations, and on the development of an enduring academic culture.
 
---
Project Types and Guidelines
Joint Projects (generally CHF 30,000 per project)
Project topics may be chosen freely within the thematic areas of focus set by the Academies.
Projects are carried out by groups of two to six people.
Project results are communicated in the form of workshops, conferences, events, or publications.
 
Personal Projects (max. CHF 1,000 per person per year)
Personal projects support an individual member's development, either in furthering his or her personal academic pursuits or in addressing one of the Academies' main areas of focus.
Project results are recorded in a short report.